So you've stumbled across the world of online writing and are keen to learn more. Well, you're in for a treat. When it comes to writing jobs online in 2022, there's definitely an abundance to choose from.
This being said, the roles requiring writers do vary depending on what is needed. So, sit back and relax as we cover all the basics, along with, where to start finding the best roles.
Navigate here to the section you want –
Top Places to Find Writing Jobs Online in 2022
Obviously, you want to find the companies willing to offer you the most for your valuable service. Therefore, we've narrowed the list down to the top 12 places to find your next dream job –
Our first entry is one you've probably all heard about. Fiverr is a good platform to find writing jobs online in 2022. However, it's mainly for newcomers. It provides the ability for freelance writers to build up their skill set by offering their services for the right fee.
The reason it's good for beginners is due to the nature of Fiverr. This is because the platform is based on displaying gigs to attract clients. Whereby, you can market yourself easier with little to no experience. Plus, when starting out, you can offer cheap prices to build upon your expertise.
The not-so-great side of Fiverr is that it will demand payment for every order you get. A fixed-rate of 20% is taken from your income. Although, they are doing pretty much all the advertising to find you clients, in the first place.
Therefore, once you've got a hang of things, especially the type of niche and form of copy you enjoy writing, you can move on. Or try applying for their Pro service where you can make some serious cash.
Next on the list is Upwork. An easy-to-use platform, once you've signed up you'll be presented with a range of available jobs. It's worth pointing out that not everyone gets accepted into Upwork as a freelancer. This is because they want to provide a fair playing field to those that use it.
Before a relatively recent change, Upwork used to allow freelancers to submit proposals for all jobs they felt suited for. However, this caused an issue where recruiters were getting spammed with all sorts of offers.
To tackle this, Upwork implemented a bidding currency. Freelancers now must purchase and use this to submit their applications for jobs. The idea is to prevent them from simply applying for everything, even if their skill set didn't fit what was needed. Although others see it as another money-making scheme by the platform. We'll let you be the judge!
Nevertheless, there is real money to be made on Upwork. One successful proposal can lead you into long-term work with decently paid rates.
Upwork's fee system works similarly to Fiverr's, but it isn't a fixed rate. When first starting out, you'll be charged 20% on the first $500 you earn. This is then reduced to 10% after $500 and between $10,000. Following on from this, anything further than $10,000.1 is charged at 5%. For more information on billing, click here.
Obviously, their aim is to keep you working on the site by rewarding those that stick to it.
Another great option is ProBlogger. Unlike the others mentioned, this consists of a simple job board where you can submit applications straight away. The recruiter puts all the requirements for the writer and usually follows up with some sort of test if selected to progress forward.
For those with significant experience and a low budget, this is a great way to find work straight away without jumping through many hoops.
However, there are a few things to watch for. As anyone can submit applications for the role in question, recruiters usually get spammed with offers making it hard to stand out. Furthermore, these jobs may be well paid but there are a lot fewer recruiters than other platforms.
We recommend that you check Problogger from time to time to land some roles, but explore others opportunities as well.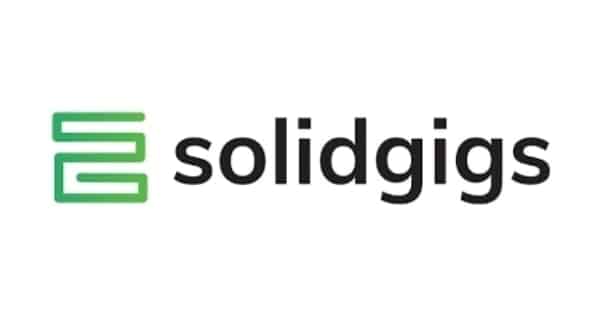 SolidGigs is a type of hybrid. What we mean by that is that it's both a job board and a productivity tool. What they do is find suitable jobs for you on the internet. Kind of like your own personal recruitment agency. However, unlike traditional ones where recruiters pay the fee to place candidates in roles, SolidGig charges you.
Starting off at $2 a month with a trial you can see all they have to offer. Following on from this, you will be paying $19 a month if you're happy to stick around.
Each week you will receive a newsletter outlining the various hand-picked roles that are ideal. These include remote working and traditional ones. The subscription cost unlocks a variety of courses and other types of material that helps writers develop skills to enhance chances of getting the job desired.
Similar to SolidGigs, here you can find both development resources and jobs. However, the difference being that Freelance Writers Den has its own internal job board. Finding high-paying writing jobs online in 2022 couldn't be easier with this site.
Although it doesn't come free. You'll be looking to pay $25 a month. This fee includes over 300 hours of videos and other bits and pieces that can help newcomers improve their skills and knowledge.
If you're not interested in the extras, then the job board is free to use and will hopefully provide you with the ability to land some great roles that fit exactly what you're looking for.
Another good site to find writing jobs online in 2022 is FlexJobs. Instead of just applying for roles you like, you set up a personal profile showcasing when you're looking for. Once you've selected the categories you're looking for roles under, along with other criteria, they will provide relevant roles.
To keep you in the loop when these jobs become available, they have an amazing alert system. If all of this has convinced you, then there's one last important aspect to cover before starting: Costs.
Somewhat on the pricey side, there are a few different packages you'll need to pay in order to gain access. These include –
$6.95 a week
$14.95 a month
$29.95 for three months
$49.95 a year
Unlike the rest we've discussed that have been on the scene for a while, Working In Content is quite new. The platform is even still in its beta stage. Although, this hasn't prevented them from providing high-paying roles to writers all around the world.
They offer opportunities for a range of writing online jobs such as UX writing, Copywriting, Content strategist, and more. To find out more about what they're really about and if they can help land you the job wanted, check out their newsletter.
Time to shake things up. Our next entry is a public database highlighting how much companies are paying writers for relevant articles. There's a huge amount to look between and can provide a better insight into how much you should be offering your services.
You can also see what type of businesses are using writers. Therefore, by using Who Pays Writers? You can narrow your search down to company websites to see if there are any opportunities.
If you're still unsure of what to charge, learn about copywriting rates here.
Run solely through Patreon, this bi-weekly newsletter is seen as the freelance writer's holy grail. With an ever-increasing community, companies from across the internet come to opportunities of the week to find relevant writers.
If you're familiar with Patreon you know there is a fee involved before things start moving. That's exactly the same here. The price does vary depending on promotions that are running, so it's best to check out the site to see how much it will set you back.
Linkedin needs no introduction unless you've been living under a rock! The business social media platform has many opportunities for jobs in every industry imagined. This includes writing jobs online in 2022.
Not only does it give you the ability to apply for vacant positions, but you can also network with fellow peers and recruiters. Networking is incredibly important in the freelancing world. So, be sure to take advantage of it.
Typically, Linkedin is seen as a way to find location-based jobs. However, with current circumstances changing work environments all over the globe, chances are you'll find remote working writing jobs.
Other Options Available to Find Writing Jobs Online in 2022
Finding Work Is Just a Part of the Freelance Writing Business
For those of our readers that are interested in freelance writing jobs online in 2022 rather than permanent ones, there are a few things you'll need to know.
When companies are figuring out how much should I pay a freelance writer, there are more than just per hour costs that they're paying for. The amount offered must cover all freelance expenses and other business costs. If not, then what's the point?
For example, permanent employees will usually have access to healthcare, job security, and other benefits. Whereas, freelancers won't. Therefore, make sure to do the calculations to find a role that will cover your lifestyle.
You'll need to research tax and other implications of being a freelancer too. You may be earning more than permanent employees, however, it comes with extra strings attached.
What to Expect During the Writing Jobs Online in 2022 Application Process
Whether you're applying for freelance roles or permanent ones, the process may be somewhat similar. The industry works heavily on examples of your previous work and your ability to write.
What better way to trial your service than by requesting a sample? That's right, you'll most likely need to complete a small sample piece without being paid. However, do not let this deter you. It's a necessary step to show that you're more than capable of doing the role well.
To Sum up, Finding Writing Jobs Online in 2022
We've covered a lot of fantastic sites that will get you one step closer to finding writing jobs online in 2022. No matter which one you decide to choose, ensure your portfolio is looking sharp. Even if you're only including personal blogs written.
Good luck!